Julian AUGLEY - Bioinformatician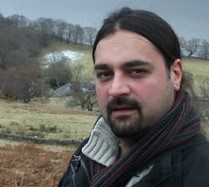 Julian Augley joined Glasgow Polyomics in 2015 as a Bioinformatician, with interests in next-generation sequencing analysis and the integration of multiple data types to answer research questions.
His original research career began as a Marine Biologist with a BSc (Hons) and a PhD both obtained at Edinburgh Napier University. This was followed by a post-doctoral research post at Marine Scotlands' Marine Laboratory in Aberdeen, where he was introduced to statistical programming. A desire to move his research forward into areas only possible through the use of computational biology led to him enrolling on the MSc Bioinformatics, Polyomics and Systems Biology at University of Glasgow.
Selected Publications
Augley, J., Huxham, M., Fernandes, T.F., and Lyndon, A.R. (2008). The effect of salinity on growth and weight loss of juvenile plaice (Pleuronectes platessa, L): An experimental test. Journal of Sea Research 60, 250-254.
Augley, J., Huxham, M., Fernandes, T.F., Lyndon, A.R., and Bury, S. (2007). Carbon stable isotopes in estuarine sediments and their utility as migration markers for nursery studies in the Firth of Forth and Forth Estuary, Scotland. Estuarine Coastal and Shelf Science 72, 648-656.
Brian, J.V., Augley, J.J., and Braithwaite, V.A. (2006). Endocrine disrupting effects on the nesting behaviour of male three-spined stickleback Gasterosteus aculeatus L. Journal of Fish Biology 68, 1883-1890.
Huxham, M., Kimani, E., and Augley, J. (2004). Mangrove fish: a comparison of community structure between forested and cleared habitats. Estuarine Coastal and Shelf Science 60, 637-647.
Huxham, M., Kimani, E., Newton, J., and Augley, J. (2007). Stable isotope records from otoliths as tracers of fish migration in a mangrove system. Journal of Fish Biology 70, 1554-1567.
Nash, R.D.M., Wright, P.J., Matejusova, I., Dimitrov, S.P., O'Sullivan, M., Augley, J., and Hoffle, H. (2012). Spawning location of Norway pout (Trisopterus esmarkii Nilsson) in the North Sea. Ices Journal of Marine Science 69, 1338-1346.
For more information and publications please visit my ReseachGate profile.